Curved Welded Wire Mesh Fence is also known as fencing, wire fencing, mesh fence,wire mesh fence, etc. Curved Welded Wire Mesh Fence is pretty light yet durable, its composition is simply wire welded together to make a fence. The surface treatment of Welded wire mesh fence includes: hot-dipped galvanized, PVC coated, powder coated.
Uses of Curved Welded Wire Mesh Fence:
1>Security for construction sites and private property
2>Security for residential housing sites and schools
3>For major public events, sports, concerts, festivals, gatherings
4>Mainly used as isolation fences or safety fences for roads, railway.
3D fence posts:
Material: high grade steel for maximum strength and rigidity.
Post section (square and round): 40 × 40 mm, 50 × 50 mm, 60 × 60 mm, 70 × 70 mm, 38 mm, 40 mm, 42 mm.
Post Plate thickness: 1.0–3.0 mm.
Colors: same as panel.
Post cap: metal caps or plastic cap.
Metal clips and clamps are hot dip galvanized then powder coating in green or black color.
Surface Treatment:
Galvanized
The fence has standard galvanized anti-corrosion, in galvanization process a layer of zinc is formed on the surface of steel. This coating protect steels against atmospheric corrosion.
Galvanized and powder coating&PVC coated
Galvanized panel fencing systems may be optionally powder coated in a color of your choice. Powder coating enhances the anti-corrosion by preventing the oxidation of zinc, owing to which our fencing systems preserve their aesthetic qualities from even longer

The difference of Galvanized and powder coating&PVC coated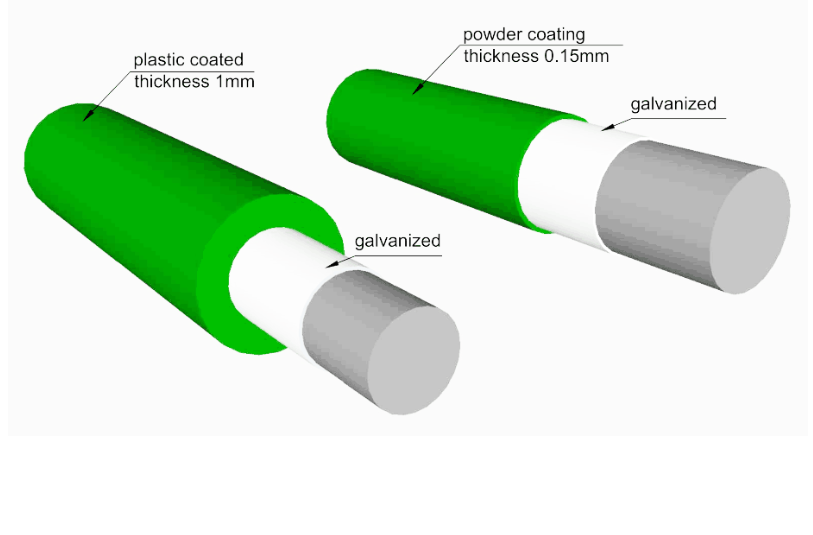 Wire mesh fence Production Process:

Iron steel wire→Wire drawing→Rust removing → Straighten wire →Cutting wire→Welded Black fence panel→Bended → Acid washing →Galvanizing→Cleaning&Drying→PVC Spray or Coating→Inspecting Quality→Packing .
Precautions for installation
Before installation, the construction department should be familiar with the location of the various pipes buried in the underground to prevent the underground facilities from damaging.

During the construction, the burial of the posts should be carried out in stages. Firstly buried end posts, and then buried the middle post.

If you want to put the posts into concrete, firstly you should drill holes on concrete surface, and then put the posts into it, finally pour the liquid concrete into the hole. During this time, remember to set up temporary cable or support to hold the posts in suitable place until the concrete is hardened.

The posts buried in the ground for a minimum of 0.5 m and a maximum of 1.2 m.

Spacing between posts would better be 0.3 m.